Beautiful new home is completed in Richland County

When Dan Arnold began the process of building his new home, not all the details were in place at the start. Dan knew a general idea of the type of home he wanted to build, but he was not sure where all his materials and supplies would come from. He did know that he wanted to have a Standing Seam roof on his new home, so he started to make contact with metal roofing installers in the area. In his search for a qualified installer, he made contact with Wes Miller, from Miller Premier Construction, and was impressed with the knowledge and experience that Wes possessed. Wes suggested that Dan would stop in at First Choice Exteriors showroom and take a look at the metal roofing options that would be available, and that is how Dan became aware of all the options that First Choice had to offer.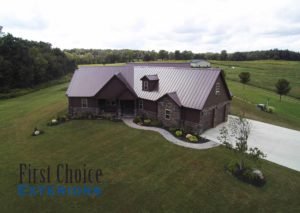 When Dan stopped in at First Choice, he was surprised to discover that they also offered Vinyl Siding, Stone, Windows, Doors, and so much more. During the discussion about available products, Chris ( who is a sales representative at First Choice ) offered to price out a number of the other items that were needed for the home. When everything was said and done, Dan and his wife Tara chose Terra Brown D4D Vinyl Siding, Newton Vinylmax Windows, Rustic Manor Ledgestone by Prestige Stone, Terra Brown 7″ Split Shakes by the Foundry, and 26ga Mansard Brown 16″ wide Weatherlock Standing Seam.
One of the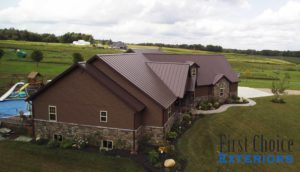 main things that Dan mentioned that impressed him regarding the service and products that First Choice provided, was the willingness that Chris showed in going out of his way to answer questions and to provide helpful information. He also mentioned that when it came to pricing, First Choice Exteriors was always able to provide a competitive price to comparable products in the area.
We asked him to sum up his experience with First Choice, " I have found that First Choice provides the highest quality of both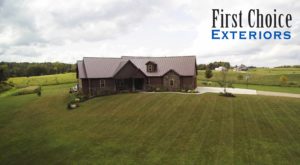 Products and Service, In addition, I appreciate the knowledge and product experience their sales representatives have. It is extremely helpful and not available in the box stores "
It really has been a pleasure to work with Dan and Tara, and we want to be the first to congratulate you on the completion of your beautiful home, and may you have many happy years ahead.