The roof on your home plays a very important part in defending against the elements. One small leak can wreck havoc in your life and cost thousands of dollars. Your roof also needs to look attractive and compliment your home's exterior appeal. Because we saw a need in the marketplace many years ago, for a roof that meets these needs and lasts a lifetime, we started a manufacturing division called Classic Metals. Classic Metals specializes in manufacturing several types of Standing Seam roofing and also Agricultural panels. Click on the logo below to be directed to the Classic Metals website to learn more.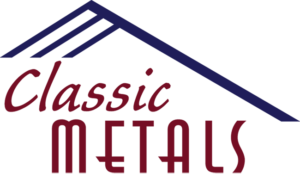 Looking for a roof that will set your home apart? Don't like the look of Standing Seam roofing, but want a roof that will last a lifetime? Weaver Metal Products was started for that very purpose. Weaver Metals manufactures a steel shingle that looks like a wooden shake, without the maintenance.
Finally, a roof that has the benefits of metal, and will have all your neighbors commenting on how great it looks. Click the logo below to be directed to the Weaver Metals website to learn more.